Wednesday Night Summer Kids Program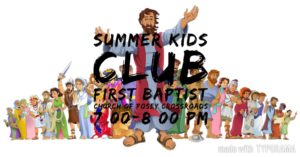 7:00-8:00
We will be doing an in depth Bible character study over this summer, to include what they are known for, drawing a picture of them, their traits, how God used them, things we would ask them, and their character. We will also be singing some songs. At the end of the summer we will present our findings to the church.
We could use some help so any adults that would like to help,
Looking forward to a fun summer!